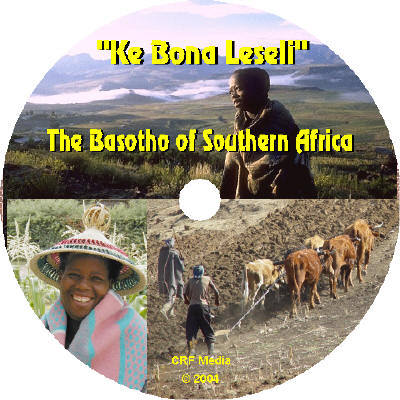 "Ke bona leseli" –
"I have seen the light!"
The Basotho of Southern Africa
Filmed November 2003
The Drakensberg Mountains of southern Africa. An imposing range of spectacular mountain peaks, rivers and valleys. It is here …. nestled in the foothills and mountains of this majestic range … that a unique people live … the Basotho.
The Basotho of southern Africa number 5 and 1/2 million ….. 3 million live in the Free State Province of South Africa while another 2 and 1/2 million live in the mountain Kingdom of Lesotho. This fiercely proud and peaceful people are usually seen with colorful wool blankets and conical-shaped hats. They are the one people in Africa who are accustomed to living in cold, snowy winters.
The Basotho nation owes its existence to the wisdom and leadership of one man. … King Moshoeshoe. Amid wars which ravaged southern Africa during the 1800's this one man chose the path of peace rather than of war. Rather than fight, King Moshoeshoe formed alliances with other tribes through marriages and then gathered his people to the safety of the mountain stronghold of Thaba Bosiu. Here the Basotho nation was formed.