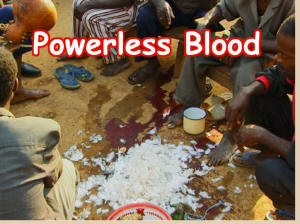 The Toura of Cote d'Ivoire
Filmed December 2000
2004 Update 2:12 (MPEG-1; mp4-S; mp4-L; Script) September 2002 brought civil war to Cote d'Ivoire dividing the country. It was necessary for the missionaries to leave the country … no word was available concerning the fate of the people of Dantomba. Finally, in October 2003, word came that although many Toura villages had suffered, Dantomba had been spared from conflict.
Powerless Blood 10:27 (MPEG-1; mp4-S; mp4-L; Script) Blood runs freely in the rain forests of Ivory Coast: the blood of chickens, goats and sheep, -- blood that our people hope will rise as a sweet aroma to our ancestors. To sacrifice is to honor them, to beg their favor – to be Toura.
Welcome to Dantomba 18:10 (MPEG-1; mp4-S; mp4-L; Script) Dantomba is located in west central Cote d'Ivoire, West Africa about 9 hours driving time from Abidjan. It is one of the many villages where the Toura live.
My Friend, Clarice 5:27 (MPEG-1; mp4-S; mp4-L; Script) Clarice lives with her family in Dantomba. Her husband had such a change in his life after coming to know Jesus that Clarice wanted to know more about this Jesus. Then a young white woman moved in next door. They slowly learned to communicate. Her new friend knew this Jesus. Clarice was amazed that she would leave her home in the U.S. to come and live in her village.
Rice Harvest 4:50 (MPEG-1; mp4-S; mp4-L; Script) The women in a Toura village go in work groups to harvest the rice. Our rice fields are what feed us. The rice harvest is the most important time of the year. The time we are finally sure that we will not go hungry in the days ahead. Notice how the women carefully pick each stem of rice by hand to make sure that none of the kernels are lost. When we finally carry all of the rice to the village.
The following four chapters are not included on the DVD
Making Palm Oil 4:11 (mp4-S; mp4-L; Script) I am Zo and my family owns a place on the mountainside near our village. We have made palm oil there for several years. Getting the oil from palm nuts is hard work but it is important work for my family. We sell the oil to our neighbors in Dantomba who use the palm oil for cooking.
The Coffee Harvest 3:34 ( mp4-S; mp4-L; Script) Welcome to my home in Dantomba. I am Roger' and I have lived here all of my life. My father is an elder in this village and someday I will take his place.
Worship With Us 4:40 (mp4-S; mp4-L; Script) On this Sunday morning, we are told that the men walk to church together and then the women come. Since there is no church in Dantomba, we must make this easy 15 minute walk down the dirt road to the next village of Bomba. As we turned toward the church, several of the local people greeted us.
John's Chickens 4:08 ( mp4-S; mp4-L; Script) John Luti is the son of Dantomba's grand fetisher, the village's spiritual leader. His father is the one in charge of making sacrifices to appease the spirits and he is training John to take his place. His family relies on the income they are paid for performing sacrifices.